Tungsten sheet for rolling tungsten foil and punching tungsten discs
| | |
| --- | --- |
| Categories | Tungsten and Alloy Sheet Plate |
| Album | View larger image |
| Brand | GETWICK 東吉 |
| Model | W1 |
| Material | Tungsten |
| Purity | 99.95% min. |
| Standard | ASTM B760 |
| Grade | W1 |
| Shape | tungsten sheet, tungsten plate |
| Working temperature | 2000~2600Dc |
| MOQ | 1kg |
| Surface | black, chemical cleaning, polished |
| Feature | high temperature resistance |
| Products Name | 2019 hot sale putr tungsten plate from China |
| FOB port | Shanghai. Guangzhou, Tianjin |
| Terms of Payment | L/C, D/A, D/P, Western Union, MoneyGram, T/T, Paypal |
| Update Time | 2019-02-23 |
Tungsten sheet for rolling tungsten foil and punching tungsten discs
Item: tungsten plate and sheet
Materials: W1
Purity: 99.95%Min
Density: 19.35g/cm³
Melting Point: 3410℃
Surface: shiny, alkaline washed, satin, or as-rolled condition; dependent upon 
thickness and width parameters.
Properties:
       High Temperature Resistance
       High Hardness
       High Density 
Feature:
Tungsten is the highest melting point of all metals.
Low coefficient of thermal expansion.
Very high level of dimensional stability. 
Main Comp.W≥99.95

Other Content≤

Fe

0.0026

Al

0.0006

Si

0.001

 

Ca

0.001

Ni

0.0009

O

0.0018

 

Cu

0.0005

N

0.0015

Pb

0.0001

 

Sn

0.0001

Sb

0.001

As

0.001

 

Cd

0.0001

Mg

0.0006

C

0.002

 

Bi

0.0001

Mo

0.003

 



Normal specification we can provide: 
Tungsten Plate/Sheet /Foil

 Thickness(min) mm

           Width(max) mm

Length(max) mm

0.05

150

500

0.06~0.09

250

500

0.1

300

500

0.12

320

550

0.15

350

1000

0.2~0.6

400

1000

0.7~0.9

400

1000

1~2

450

1000

2~10

450

600

10~15

450

500

15~25

300

500
Tolerance  Chart(mm)

Thickness

Width

    Length

Range

Tolerance

Range

Tolerance

Range

Tolerance

0.05~0.2

+/-0.01

30~200

+/-1

50~400

+/-2

0.2~0.3

+/-0.02

50~300

+/-1

50~400

+/-2

0.3~0.6

+/-0.03

50~300

+/-2

50~600

+/-2

0.6~1.0

+/-0.04

50~300

+/-2

50~1000

+/-3

1.0~2.0

+/-0.05

50~300

+/-2

50~1000

+/-3

2.0~4.0

+/-0.1

50~300

+/-2

50~1000

+/-3

4.0~6.0

+/-0.3

50~300

+/-2

50~600

+/-3

6.0~

+/-0.5

50~300

+/-3

50~600

+/-3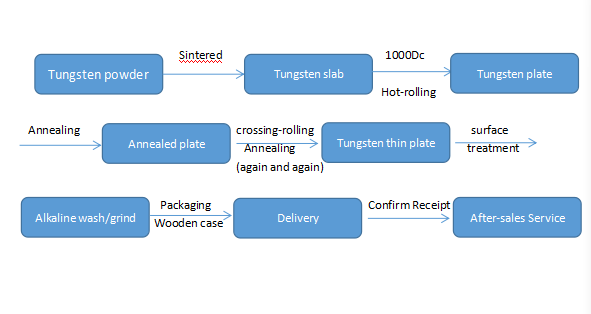 Tungsten Sheet&Plate Application:

For producing electric light source parts and electric vacuum components
For producing heating elements and refractory parts in high temperature furnaces
Used as electrodes in the field of rare earth metal industry
Used in military of some aspects
For medical aspects
Be used to make decorations and etc.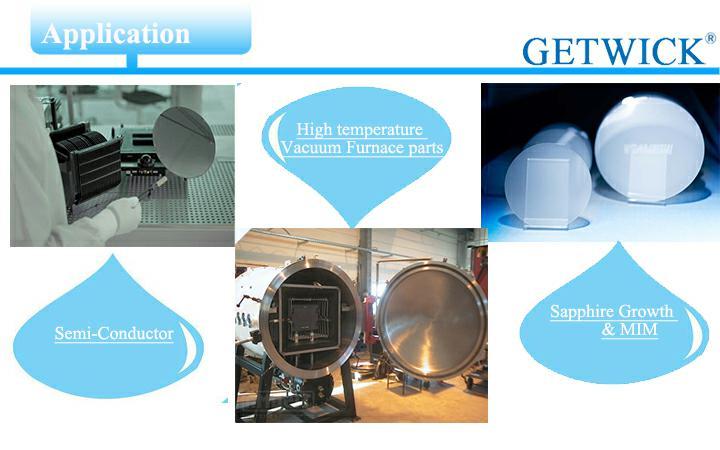 Tungsten Sheet&Plate Package:
1.Wrapped with thin paper&brown paper for sueface protection;
2.upright each plate with PE foam surrounded to avoid damage during transportation;
3.fastening with belts shipping mark sticked.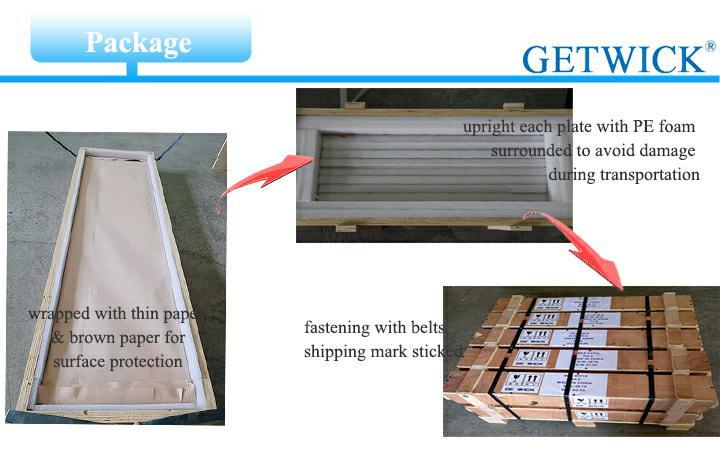 Tungsten
In the metal, tungsten has the highest melting point (3420 ℃) and the lowest vapor pressure.Even at the highest temperature of high vacuum technology, tungsten can still meet its performance requirements.Low thermal expansion, high melting point and perfect shape stability make tungsten an excellent material for glass encapsulation.The resistivity of tungsten is an important factor for tungsten to be used as heating material and high temperature furnace material.Tungsten also has high density and good adsorption capacity, so tungsten is also commonly used in the power radiation industry.
At room temperature, tungsten is brittle and difficult to process.But at a slightly higher temperature (200 ℃ -- 500 ℃), the tungsten toughness will be improved greatly.The high-temperature strength and stress of tungsten depend on the processing rate, and the annealing treatment at a certain temperature has a significant effect on the high-temperature strength and stress of tungsten.
Mechanical properties of tungsten: the mechanical properties of tungsten are affected by the purity of the material, the type and amount of alloying elements, heat treatment (annealing conditions), and crystal structure.Tungsten is a body - centered cubic lattice structure with very low ductility at room temperature.Mechanical processing or alloy addition can reduce the brittle and ductile transition temperature of tungsten, and the strength of tungsten increases with the increase of processing rate.Unlike most metals, processing also increases the ductility of tungsten, and the addition of rhenium alloys to tungsten also increases the ductility of tungsten at room temperature.Adding a small amount of La oxide can improve the mechanical properties of tungsten, especially the creep strength.
Chemical properties of tungsten: tungsten and tungsten alloys have similar corrosion resistance.In the case of molten glass, nitrogen, inert gases, molten metals, and ceramic oxides, even at very high temperatures, these substances only slightly erode tungsten as long as no other oxidants are present.
Tungsten and its alloys are widely used in lighting, electronics, medical applications and thin film technology, melting electrodes and high temperature furnaces. Getwick has been engaged in the research and development of tungsten and its alloy materials, and has developed mature production processes and high-performance tungsten materials.
Please send your message to us
*
We will reply your inquiry to this Email as soon as we see it

Focus on mobile phone clients
Address:

No.29,Baoti Rd.,Wenquan Village,Maying Town,Hi-Tech Zone,Baoji, 721014, Shaanxi,China.